Transforming and Reinterpreting Without Demolishing
Transforming and reinterpreting the built environment is becoming increasingly important as a viable alternative to demolishing, open space occupation, and the dominance of the construction sector. Bram Aerts, co-founder of TRANS, will talk about the strategy his office proposes to transform buildings radically.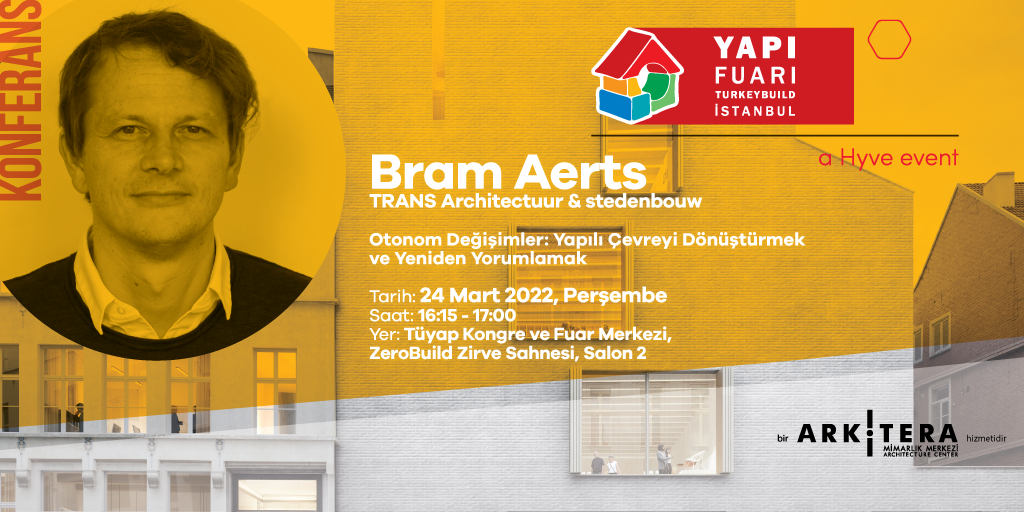 About Bram Aerts
Bram Aerts co-founded TRANS Architectuur & stedenbouw with Carolien Pasmans in 2011. After graduating from KULeuven, he gained professional experience in Brussels and Antwerp. With over 15 years of expertise in architecture and urbanism, Aerts focuses on the office's creative direction, customer relations, communication and research, and is closely involved in all TRANS projects from the early stages of concept to realization, including Leietheater Deinze, Masterplan Pelt, Design Museum Ghent, RITCS Brussels, and Dockside Tower Brussels. 
The office gained international recognition by receiving awards such as the 2019 EU Mies van der Rohe awards nomination, the 2019 Big Mat Award, the Belgian Building Awards, and the 2019 Jo Crepain award.
About TRANS architectuur & stedenbouw
TRANS, the architectural office based in Ghent, Belgium, was founded in 2011 by Bram Aerts and Carolien Pasmans. With its team of architects and urban planners, the office soon was able to establish a strong reputation ahead of a generation of acclaimed Flemish design practices.
Among its major projects are the Royal Institute for Theatre, Cinema, and Sound in Brussels, the Cultural Center Community in Ghent, the mixed-use Dockside tower in Brussels, and the Leietheater near Ghent, which has been opened to the public recently. The office is still working on large-scale master plans in the cities of Ghent, Eeklo, Turnhout, Hasselt, and Pelt. In addition, the office won the international design competition for the Design Museum Ghent, together with Carmody Groarke and RE-ST, and was granted the permission to execute and realize the project. 
Bram and Carolien, the founders of the office, currently teach courses on architecture and urbanism at the University of Leuven, the University of Antwerp, and the Rotterdamse Academie voor Bouwkunst.
TRANS won the Flemish Brabant Architecture Award in 2015 and 2017, the Belgian Building Awards 2019, the Real Estate Awards 2019, the BigMat Awards, and the Jo Crepain Awards. Also, they made it to the finals of the EU Mies van der Rohe Award in 2019. 
Other Events to be Held Under Yapı Turkeybuild 2022
YAPI MASTER CLASS – ARCHITECTURAL MASTER CLASSES AND CURATED EXHIBITION TOURS