SPECIAL GATHERING WITH MASTER ARCHITECTS, ENGINEERS AND MATERIAL EXPERTS
Together with the moderator, the exhibitors who register to one/all of the "Architecture Masterclasses" visit a total of five stands per day at the fairground. They get to establish direct contact with the guest master architects and engineers and benefit from their experiences.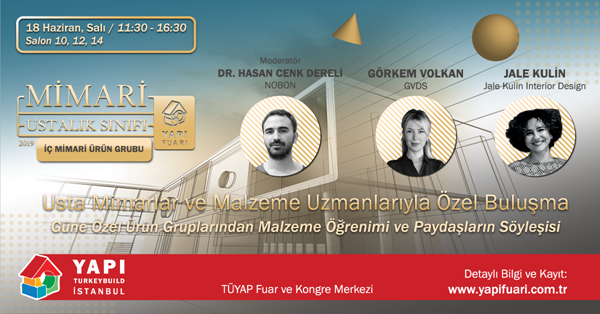 On Tuesday, June 18, architect
Jale Kulin
and architect
Görkem Volkan
will focus on the interaction of architecture and interior design within the thematic frame of Interior Structure. They will speak on how the decisions made at various scales create quality structures through the partnerships in various projects.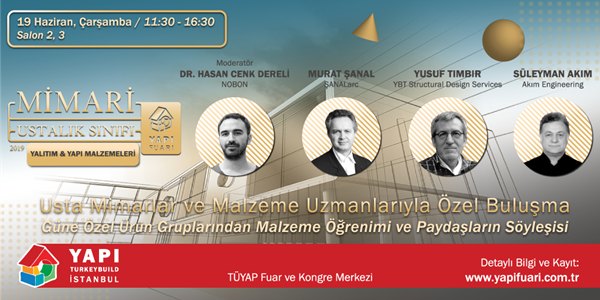 On Wednesday, June 19, architect
Murat Şanal
(ŞANALarc), engineer
Yusuf Tımbır
(YBT Yapısal Tasarım Hizmetleri) and engineer
Süleyman Akım
(AKIM Mühendislik) will discuss ŞANALarc's various housing and trading projects at different scales currently ongoing in Tophane, Istanbul within the scope of the building envelope, architectural program and city within the thematic frame of Insulation & Building Materials.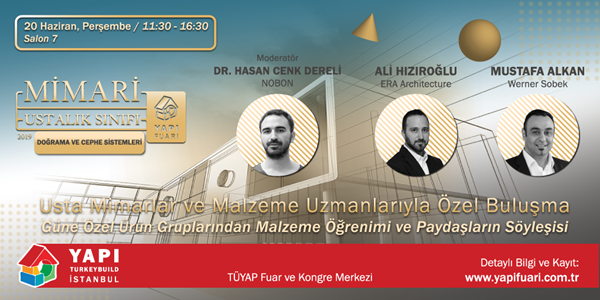 On Thursday, June 20, architect
Ali Hızıroğlu
(ERA Architecture) and engineer
Mustafa Alkan
(Werner Sobek) will share their experiences gained in facade and architectural detail production in joint projects within the thematic frame of Joinery (Doors and Windows) and Facade Systems.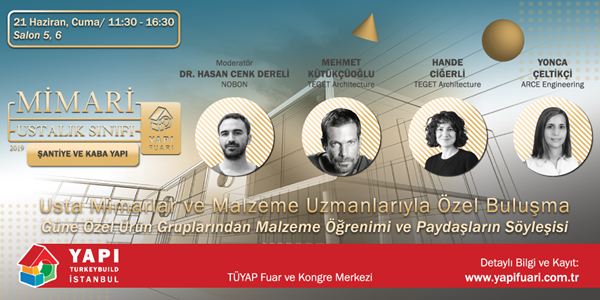 On Friday, June 21, architect
Mehmet Kütükçüoğlu
(TEGET), architect
Hande Ciğerli
(TEGET) and engineer
Yonca Çeltikçi
(ARCE Mühendislik) will talk about the construction, work site, surroundings and process of the Yapı Kredi Cultural Center on İstiklal Street within the thematic frame of Work Site and Macrostructure.
REGISTER NOW!
Number of people:
Limited to 20 people per day.
Method of application:
To apply, you must register online to Yapı – Turkeybuild Istanbul 2019.
What you must send to
content@ite-turkey.com
in the e-mail titled "Yapı Masterclass Registration Request":
A digital copy of your Yapı Exhibition visitor card
CV (including the profession/education, company/school, role/post-graduate education degree)
Specification of the desired architecture masterclass
Important notes:
Registrations will be assessed in line with the order of the applications.
After the determination of those who will be able to attend the Architecture Masterclass, the relevant attendants will be provided with the details of the meeting point and the course of the day.
The two-way Free Shuttles between the Central Points and the Fairground will operate between June 18 and June 22. You can find the central point information and the timetable on http://www.yapifuariistanbul.com.
The attendants will be provided with certificates.