---
Jul 08 | 2019
The leading exhibition in Turkey and the region serving building and interiors industry, YAPI – Turkeybuild Istanbul 2019 hosted 553 exhibitors from 12 countries and 90 key-speakers as part of over 30 events.
One of the major successes this year was the increase the event saw in the number of international visitors, a whopping 32%. The international attention is one of the reasons why the event is securing its spot as one of 5 biggest building events in the world. 2019 edition welcomed over 68,000 visitors at TUYAP who were there to meet leading companies, source new products and get up to speed with the industry.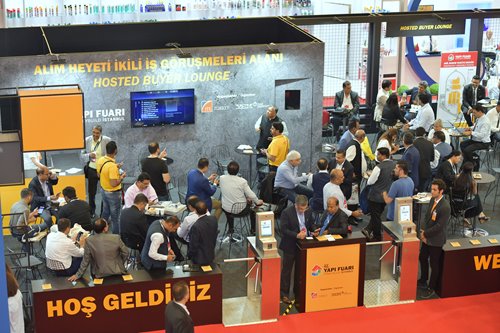 In addition, the exhibition hosted over 240 hosted buyers from countries including; Algeria, Azerbaijan, Georgia, Germany, Iraq, Morocco, Palestine, Saudi Arabia, Tunisia, Uganda, United Arab Emirates, Nigeria and India. Thanks to ITE Connect app, exhibitors, buyers and visitors were able to view each other's business profiles and arrange meetings prior to the event and as a result, more than 1,200 B2B meetings were held seamlessly at the exhibition.
Taking upon itself a mission to create new business opportunities and enable exchange of knowledge, Turkeybuild Istanbul again added value through its Event Programme. In 5 days, 5 different themes were examined in over 30 events. One of the speakers of this year programme, founder of NL
É, Kunle Adeyemi who touched upon topics like human-environment relationship in his speech "Water Cities" said: "Humanity's relationship with the environment is growing in parallel in mega-cities and large communities. Urbanization, climate change, and varying major urban challenges need to be addressed. Digital technologies play an important role in architectural processes and production to the extent that they add value and support solutions."
43
rd
YAPI – Turkeybuild Istanbul 2020 will take place next year between 18-22 April at TUYAP. Secure your spot now to grow your business at this prestigious event.